We are celebrating at CrownCouture HQ today. Yesterday we won not one, but two, coveted UK Hair Awards.
Meet our two Super 60 winning products:
BEST UK AFRO HAIR EXTENSIONS: CROWNCOUTURE VIRGIN BRAZILIAN HAIR
Our Virgin Brazilian Hair is 100% double drawn meaning that it is thick from root to tip. The CrownCouture Brazilian hair collection is the highest quality of human hair, hand-picked and ethically sourced from only young donors. It promises first/ A grade hair with the utmost elasticity and bounce.
Our Virgin hair extensions come in their natural state, uncoloured and untreated. All our wefts are double-wefted for extra strength and reduced shedding.
Our Virgin Brazilian range comes with matching closures in freestyle, middle and fringe parting.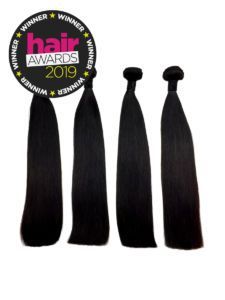 BEST UK HAIR PIECE: CROWNCOUTURE TOPPER
Want a fringe without having to commit to years of growing it back? Experiencing thinning hair, or hair loss at the crown? This closure with fringe could be the solution for you.
Attachment is discreet and this piece blends easily with your natural hair. It is ready to wear and can be styled as desired. Once clipped in using its three clips, the fringe is safe and secure.
This hair piece is made from the highest quality heat-resistant synthetic fibre and will act and move just like your natural hair. This piece is also available in human hair.